AT91CAP7A
The Atmel
AT91CAP Microcontrollers
range offers microcontroller solutions with a Metal Programmable (MP) block.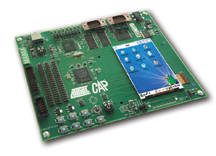 Highlights
The ZY1000 comes with a configuration file ready set up for the CAP7 STK board, including switching from RC oscillator and DRAM setup. In addition to ease of use, ZY1000 offers excellent performance for developers who need to download large applications to RAM directly from GDB reducing the build-debug cycle to seconds.
USI recommends USI Embedded CDT plugin 4.13 or newer and Eclipse CDT 7.0 for this target.
Ultimate Solutions, Inc.
10 Clever Drive
Tewksbury, MA 01876 USA
Phone: 978.455.3383
Fax: 978.926.3091
Email: info@ultsol.com
Quick Link to Support & Resources:
USI acquires Zylin ZY1000 product line
Click Here
Available NOW for an introductory price!
Embedded Linux BSP Program from bootbits
Click Here...

Ask about new Boundary Scan capabilities with the ZY1000!
Click for more info